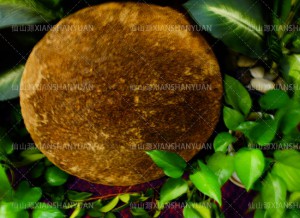 Peanut cake with hull is the residue of hulled-peanuts after oil-extracting and distilling and cherish high nutritious value.
Their metabolizing energy is the highest in the series of cake fertilisers. The coarse protein takes up no less than 48%. The contents of vitamins and minerals are almost the same as the other of them. However, the distribution of amino acids in the cakes is not even. Lysine level is only half of that in soy cakes but arginine's statistic is 5.2% which is the topmost amongst all feedingstuff.

The nutrient amount in peanut cakes varies with hull proportion. The more hull, the lower the protein percentage and effective energy. The cakes from hulled peanuts contain 25% coarse fibre and can't be used as food for single-stomached animals such as pigs and chickens.
Application:
As the hulled peanut cakes are in rich of nitrogen phosphorus and potassium, they are widely used as soil fertilizer.

Specifications:
ITEM
STANDARD
Appearance
Yellow brown
Proteins
36%-42%
Fibre
8%
Fattiness
7%-8%
Moisture
≤10%
Ash
≤8%
Packing
25 or 50kg/PE inner or kraft paper or upon request
In stock: Yes
Brand Name: XSYAGRI
Packing: 25 or 50 kgs/bag
Supply Ability: 200t/m
Port: China Main Port
Delivery: Immediate
Payment Terms: T/T or L/C